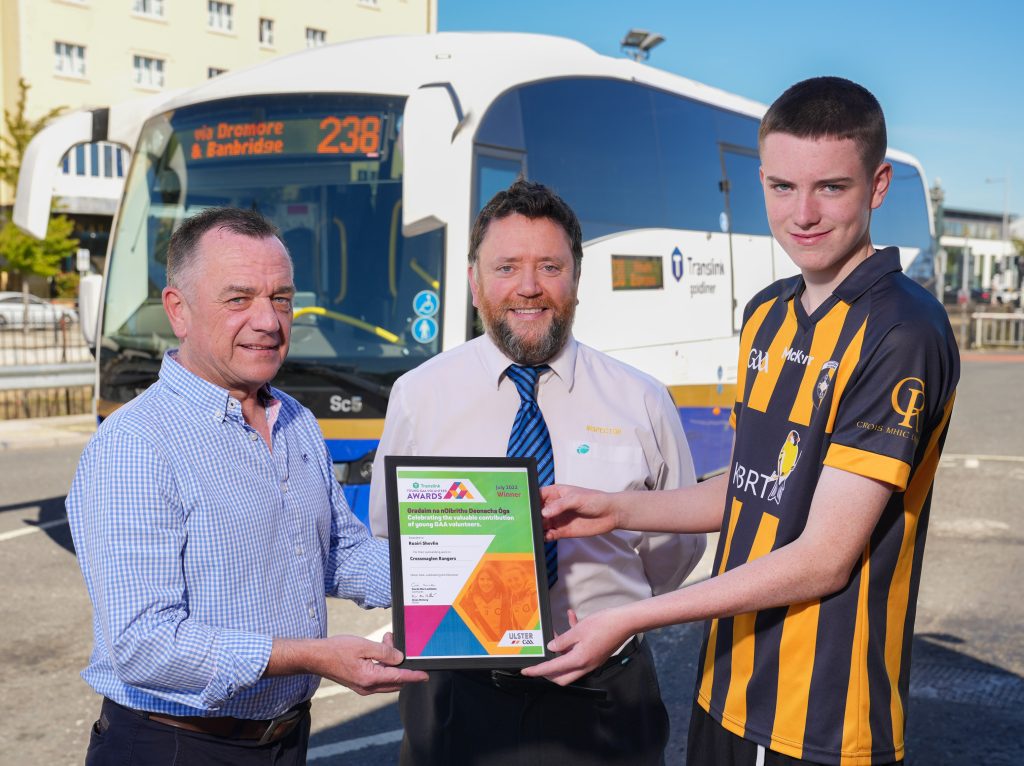 Fourteen-year-old Ruairi Shevlin from the Crossmaglen Rangers club, Co. Armagh, has been awarded the Translink Ulster GAA Young Volunteer of the Month award for July 2022.
The award is presented each month to one young volunteer whose efforts best demonstrate the volunteering ethos and community spirit of the GAA.
Ruairi was nominated by Crossmaglen in recognition of the outstanding contribution he makes to the day-to-day running of the club.
Despite sustaining an injury that kept him off the playing field for several months, Ruairi's commitment to helping his club in other ways was unerring.
He carried out a vast range of fundraising activities such as weekly lotto, bingo and club draw ticket selling, and also assisted in summer camp coaching and is always willing to lend a hand out at club events.
Presenting Ruairi with his award, Translink Inspector at Newry Bus Station, Ruairi McGivern, said:
"It's great to hear of the fantastic work young people like Ruairi are doing within their local clubs and communities and it's particularly impressive to see the wide range of initiatives he has been involved in. It sets a great example for other young people, and we're delighted to be able to help recognise his hard work with the presentation of the Young Volunteer of the Month award."
Ulster GAA PRO, Michael McArdle, added:
"Ruairi's attitude, leadership and ability in motivating others is outstanding, and his willingness to give so much time and effort to his club, at such a young age, is remarkable. I congratulate Ruairi and all the young nominees this month who are doing tremendous work in their local GAA clubs."
Crossmaglen Rangers Club Secretary, Danielle Morris, added:
"The composure and dedication Ruairi shows is always outstanding, but especially at 14 years of age while carrying an injury. He has been a fantastic member and volunteer of our club for many years and will be for many years to come. We are extremely proud of Ruairi and grateful for all the time and effort he gives."
Applications for the August Young Volunteer of the Month award are now open. To nominate a young person aged 14-24 for the accolade, visit ulster.gaa.ie/youngvolunteeraward.