Bank of Ireland Dr McKenna Cup 2020
Bank of Ireland Dr McKenna Cup 2020
Competition Tickets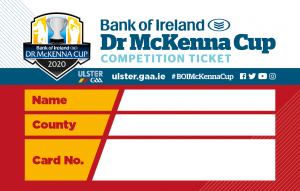 Ulster GAA will  be selling a Limited Edition of competition tickets for the 2020 Bank of Ireland Dr McKenna Cup at £18.
This card is not county specific so patrons can attend any fixture within the competition, including both semi-finals and final 2020.
Competition Tickets are available to order via Ulster GAA by telephoning 028 37521900.
Bank of Ireland Dr. McKenna Cup 2020 Sections
|  Section A |    Section B |   Section C |
| --- | --- | --- |
|  Muineachán |  Aontroim |  Ard Mhacha |
|  Dún na nGall |  An Dún |  Tír Eoghain |
|  Doire |  Fear Manach |  An Cabhán |
| | | |
Bank of Ireland Dr. McKenna Cup 2020 Fixtures
Round 1 – Sunday 29th December @ 2pm
Section A
| Fixture | Venue |
| --- | --- |
|  Muineachán v Doire |  Inniskeen |
Section B
| Fixture | Venue |
| --- | --- |
|  Fear Manach v An Dún |  Brewster Park |
Section C
| Fixture | Venue |
| --- | --- |
|  An Cabhán v Ard Mhacha |  Kingspan Breffni |
Round 2 – Sunday 5th January @ 2pm
Section A
| Fixture | Venue |
| --- | --- |
|  Dún na nGall v Muineachán | Páirc Mac Cumhaill |
Section B
| Fixture | Venue |
| --- | --- |
|  Aontroim v Fear Manach |  TBC |
Section C
| Fixture | Venue |
| --- | --- |
|  Tír Eoghain v An Cabhán |  Healy Park |
Round 3 – Wednesday 8th January @ 8pm
Section A
| Fixture | Venue |
| --- | --- |
|  Doire v Dún na nGall |  Celtic Park |
Section B
| Fixture | Venue |
| --- | --- |
|  An Dún v Aontroim |  Páirc Esler |
Section C
| Fixture | Venue |
| --- | --- |
|  Ard Mhacha v Tír Eoghain |  Athletic Grounds |
Bank of Ireland Dr. McKenna Cup 2020 Semi Finals
Section C v Section B
Section A v Best Runner Up
Comments
comments