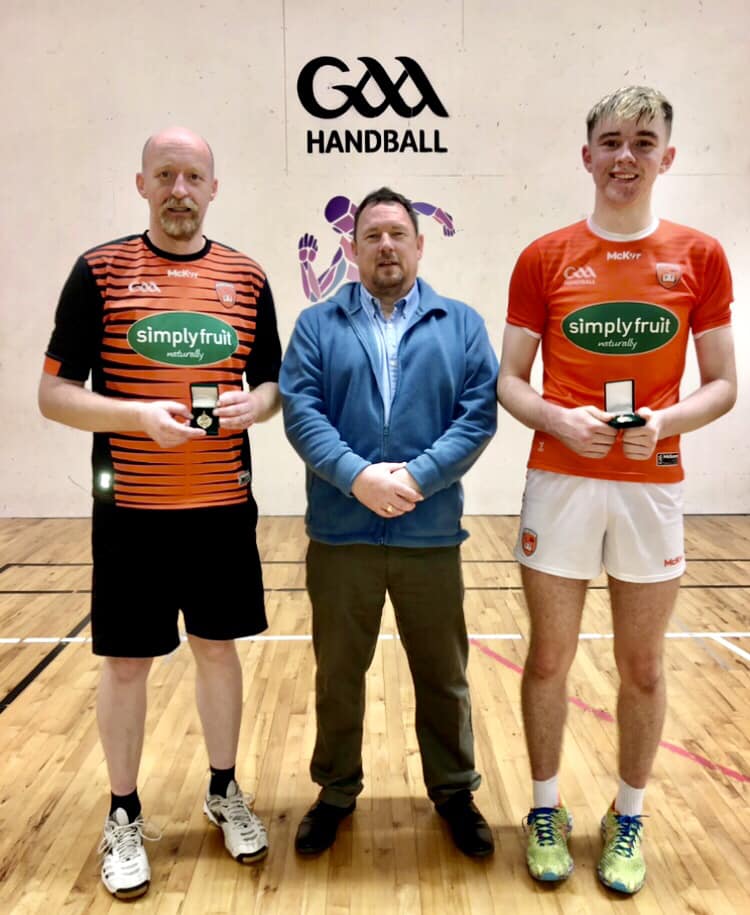 James Doyle and Fíachra ÓDúill are All-Ireland Wallball Champions.
St Killian's GAC, Whitecross father and son were crowned All-Ireland Masters and Minor titles respectively in Roscommon.
Doyle won the Masters Nationals title in July and followed that up with a super win in the Masters Spanish Open in September before going on to take the Ulster and All-Ireland Wallball titles.
Doyle won the All-Ireland final against David Hope from Offaly.
Doyle had accounted for Plunkett Kelly of Tyrone in the Ulster semi-final and Antrim's Paul Graham in the Ulster final.
Hope had an impressive run in Leinster, overcoming Wexford's David Stanners in the semi final and Billy Caddell of Louth in the Leinster decider.
The Offaly man is a few years Doyle's junior and is a very fit and talented player but Doyle used all his experience and court craft in the first game to take it 15-5.
The second game was a tighter affair in parts but Doyle always looked in control and went on to take the honours 15-5 15-10 and an All-Ireland title back to the orchard county.
In what has been his most successful year to date, Fíachra ÓDúill took home the All-Ireland Minor title. In a year where ÓDúill has played more than 40 competitive handball matches, he had the arduous task of facing the current All-Ireland Minor 40×20 and 60×30 Champion, Sligo's Cormac Finn.
Finn was going for a clean sweep of All-Ireland Minor titles but ÓDúill had his own plan.
ÓDúill who amassed the following in 2022: Ulster 40×20, Ulster Colleges 60×30, Ulster Wallball, UK Open Mens B, Lough Showdown Mens A, Killyclogher Doubles, Irish Wallball Nationals, Antrim Autumn Slam Mens Open, Top 4 finish in Spanish Open was planning to take home the major honours at the weekend.
Even though he is a year younger than his opponents, the Year 14 St Paul's Bessbrook student showed maturity above his years for such a major occasion.
Played on the showcourt and broadcast live online from GAA Handball, ÓDúill flew into a 9-0 lead before his Sligo opposition put a score on the board. ÓDúill continued with some great retrievals and excellent placed shots to finish out the first game 15-3.
In the second game, the double All-Ireland champion Finn managed to get 9 points but alas his fairytale in minor handball was over and it was the Armagh man who progressed to the holy grail on a 15-3 15-9 score line.
In the final, the Whitecross man faced Eoghan Daly of Cork. The Munster Champion and ÓDúill had crossed swords in the Wallball Nationals semi-final earlier in the year.
The Ulster Champion was in terrific form, giving the Lee-sider a tour of the court. Daly struggled with ÓDúill's power and placing of the ball and try as he did, with his impressive dives, retrievals and great agility, the Armagh young gun was to claim the coveted All-Ireland Minor title to add to his already impressive CV on a 15-4 15-2 scoreline.
Well done to both James and Fíachra – it is not too often a father and son win All-Ireland titles on the same day.
Mól an óige agus tiocfaidh sí.