#ClubDraw
Club Incentives
And Prizes
Early Bird Club Draw: Two £1,000 prizes for clubs who have paid their minimum target 30 days prior to the first draw.
Guarantee: Every club is guaranteed a minimum of £200 prize winner.
Club Prizes:
First prize for the club who has sold the highest number of tickets:
Set of 24 McKeever jersey's & 12 footballs (size 5) or 4 dozen sliotars Clubs who sell 50 tickets get one entry for club prizes, 100+ 2 entries, 150+ 3 entries, 200+ 4 entries and so on.
6 prizes in draw:
3 x Set of 24 McKeever jersey's
3 x 12 footballs (size 5) or 4 dozen sliotars
Since its inception the Club Draw has raised over £400k for clubs.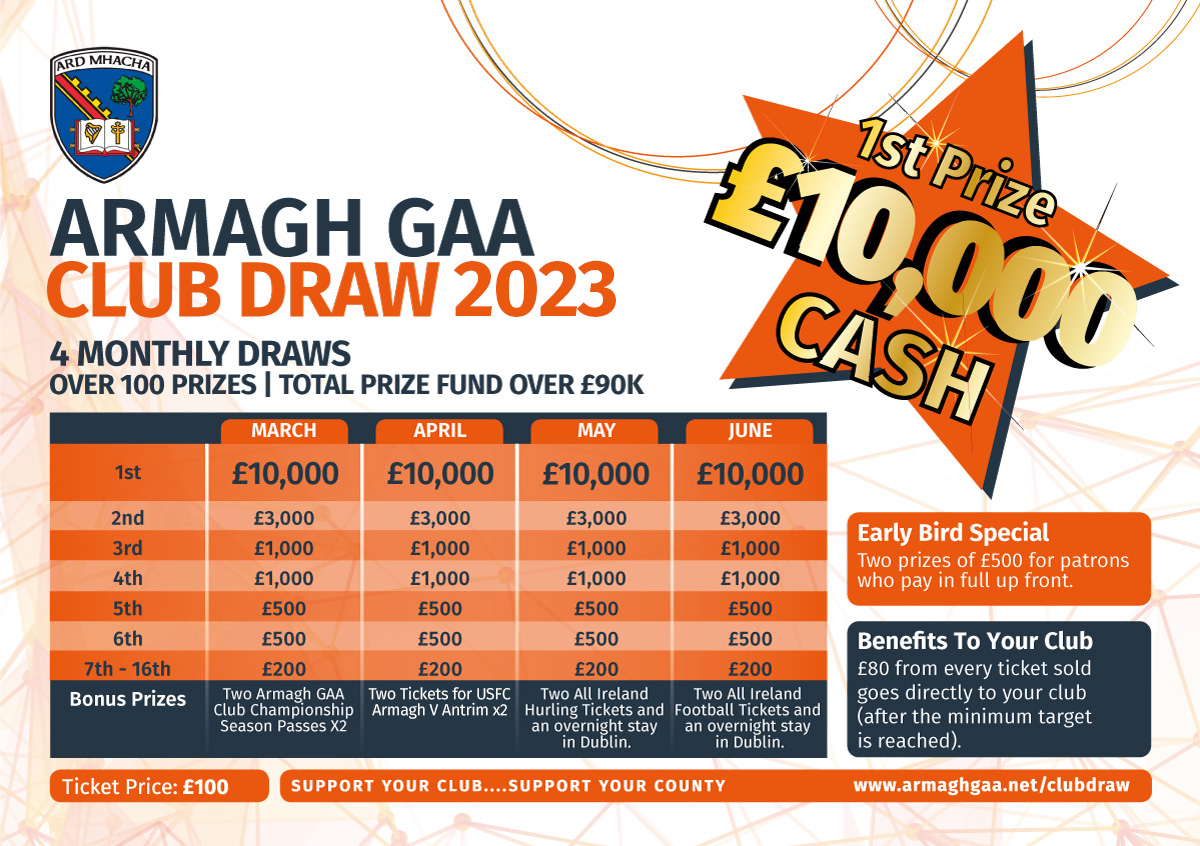 DEVELOPMENT
Monthly Draws
Jackpot 10,000 Prize
2023 Club Draw to drive funds for Armagh clubs
Armagh 2023 Club Draw now in its sixth year has already generated hundreds of thousands for clubs.
Tickets are now on sale and available from your club or online.
Tickets cost £100 and include four-draws with a guaranteed 80% of all proceeds raised going directly back into club funds (after each club reaches their minimum target). Each ticket will be entered into the four monthly draws with over £90,000 in prizes up for grabs.
All county proceeds generated from the Club Draw will do directly into the County Training Facility fund. For information contact your local club or call the County Board Office on 028 3752 7278.
LIVE GAMES
and Highlights
Watch the latest sporting events that are happening now on Armagh TV for county and club.

Subscribe now.
Find out how to stream and subscribe to Armagh TV.